Critic's Review
The Duffy's chain took this place over a couple of years ago and transformed what was a poorly maintained space into a bustling sports bar. They have a substantial menu that seems to grow weekly, and they have rotating specials that keep even non-sports fans coming back.
This Duffy's location distinguishes itself with the bar area which is the "theatre"; a big room with projection screens in a circle around the bar. You can see 5 screens from any seat in the place. It's the ultimate place to watch Sunday Football, particularly if you like watching multiple games. They get a good crowd and it's a real sports bar feel, which a lot of enthusiasm. I lost my voice here watching the Giants / Tamba Bay game 2 weeks ago.
Duffy's Fort Lauderdale Bar Area
When this Duffy's first opened, the food that I tried here was pretty good. But over time, their prices have creeped up and the quality of the food has diminished.
From 2pm-4pm during the week you get 40% off your bill, so if you're not stuck to a lunch hour it's a very good deal. The Yankees had a day game today, so I stopped in. They have a bunch of new dishes, but I know better than to order anything complicated. So I ordered a half rack of ribs with cole slaw and asparagus, which is overpriced at $14.95, but not as bad with 40% off.
Service at Duffy's is always amateurish; Iced Tea was dropped off without sweeteners or lemon. They don't hire experienced bartenders here, and they have no bar backs, so when there's an event or for Sunday Football they're just overmatched. More on this later. The ribs came out in about 10 minutes.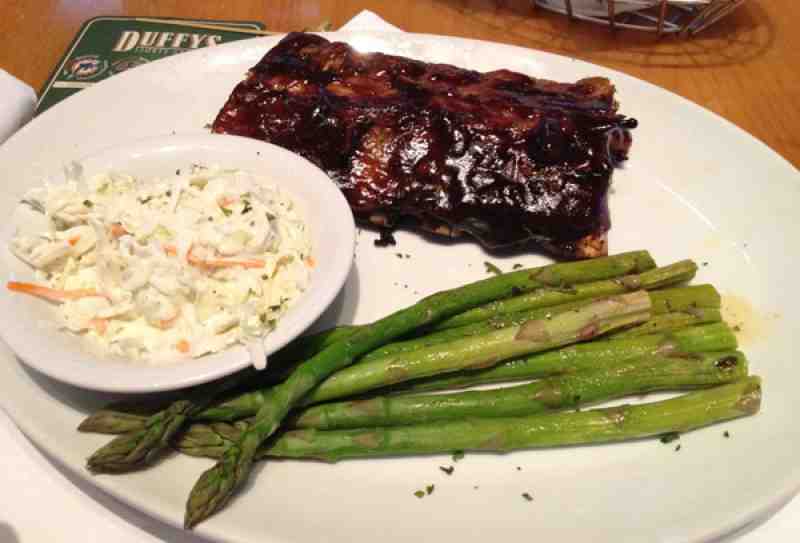 Duffy's Ribs
The ribs were certainly "fall off the bone tender"; they were better than Quarterdeck or Chuck's, but a far cry from what you'd get for less money at any BBQ joint. The cole slaw was ok; the asparagus were cooked properly but could have used some sauce; I squeezed some lemon on them.
The bottom line at Duffys is stick to the wings or the burgers, unless you're used to eating at the Ale House or Appleby's. I made the mistake of ordering a skirt steak here once; a bad piece of meat with nasty chimichurri; the more skill required, the more the dish is to be avoided. A guy sitting next to me had a "stir fry" with what were supposed to be lo mein noodles; but what was actually a heap of linguini. He mentioned to the server that what he got isn't what's described on the menu; her response was that she didn't make the menu. A real restaurant would have offered him something else.
They do have a late 2 for 1 happy hour every day, and they do have all of the sports packages. If you think of Duffy's as a bar where you can get some grub, you'll enjoy it just fine.
Photo Gallery