Critic's Review
J Mark's opened in Fort Lauderdale a year ago, and having been to the other location a few times, I wasn't all that excited. But today was such a nice day i wanted to eat outside, and J Mark's was right on my path.
Anyone who remembers the dingy place that was Bennigan's won't recognize the new place. J Mark's completely gutted the old structure and created an open, airy space beautifully decorated with light cherrywood and stone veneers. The raised bar area has a number of booths, an area behind the bar with fixed mini tables for dining and comfortable upholstered chairs at the bar. The lighting is raised so as not to interfere with the view.
They have a large, open air patio that is on the same level as the inside, so the wrap-around bar seems like one big scene. The bar is a bit wonky; the stools inside are a bit too high, and the bartenders seem to be serving from a pit. My petite server could barely reach to clear my plates. The patio is really nice with colored concrete floor and nice wicker furniture. There's a TV and quiet music playing; it's really a very nice space.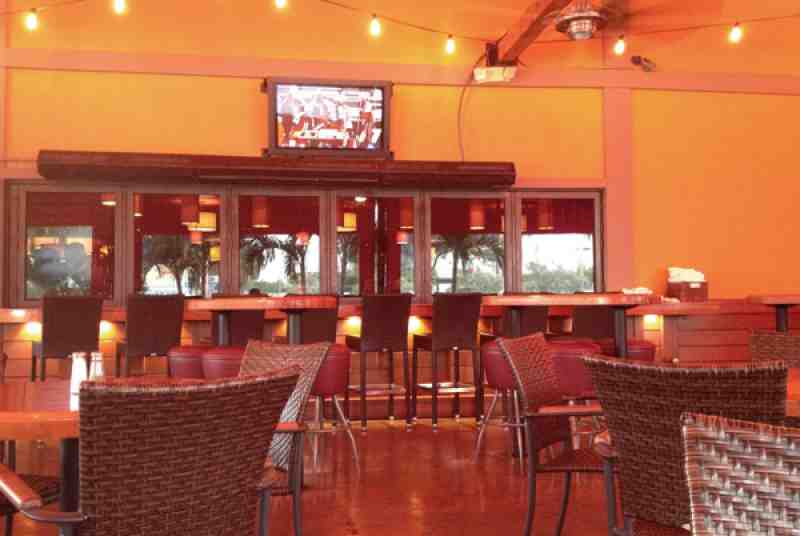 The menu at this J Mark's is identical to their Pompano Beach location. In more ways than one, J Mark's has fashioned themselves after J Alexanders; I doubt that the J is a coincidence. To me, their menu is a fusion of J Alexanders and Cheesecake factory, with large portions and a lot of fancy speciality dishes.
They serve prime rib all day; it's also 25% off on Sunday and Monday. I'd had it once before and I thought it was too lean. Their menu is a bit deceptive; at the top of the Steaks section they say that they are "pleased to offer 28 day aged CAB", but it appears as if only the NY Strip is CAB. I had their prime rib lunch special once before and wasn't all that happy with it, but I'm not eating carbs for a while so I went for it again.
J Marks 8oz Prime Rib Mid-Day Special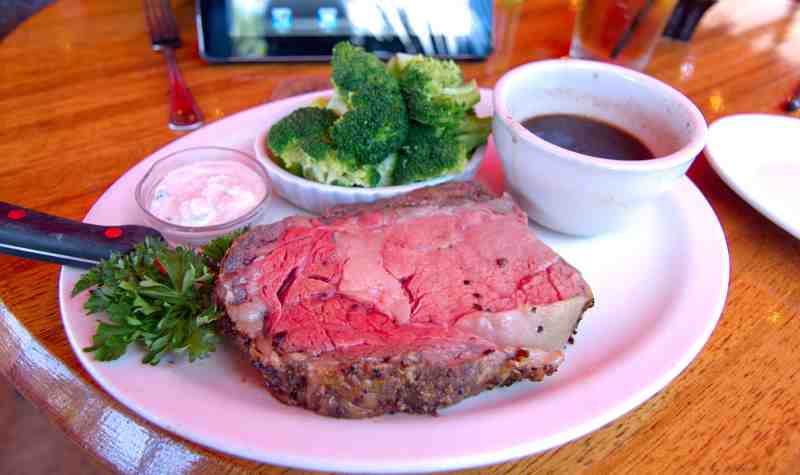 J Marks 8oz Mid-Day Prime Rib 10/20/2011
The difference between the 2 offerings is obvious. The first one I got was way too lean throughout and was a very small cut. The second piece (aside from the fact that I have a better camera now) is a better cut. Half of it was too lean and dry, but the nice red half was pretty good. The horseradish is needed on the lean meat and is pretty good; I don't like the Au Jus; it tastes like an onion soup and doesn't work with the prime rib to me. All in all not a bad lunch for $14.99 on the special menu.
I'm not a big fan of the food here; it's really hit or miss. I also had perhaps the worst fish and chips I've ever had at J Mark's; the battering was so bad I had to cut it open and dig out the fish. They put grapes and walnuts in their chicken salad; I don't want fruit and nuts in my chicken salad. Also many of the dishes are very high in calories and very large portions. The pastas fall into that category. The salads are enormous as well.
There are some winners on the menu; the Jerk Chicken wings are served with the joint intact; their version of egg roll are halved and filled with an avocado mixture reminiscent of guacamole. I also like the chicken madiera, two large cutlets topped with asparagus and mushrooms with melted cheese.
I inquired as to why 1/2 rack of danish babyback ribs that they have on their mid-day "specially priced" menu for $13.99 is the same price that they normally are. Nobody was able to explain why I should consider this a special.
On a previous visit I decided on cajun chicken sandwich. You can get the sandwich with any number of sides; I decided on the cole slaw. The slaw is chopped finely and has carrots, peppers and pickles in it, and its not too sweet. I likef it. The chicken has a reddish coating, but not much of a cajun flavor really. It comes with what they call cajun mayonnaise which tasted more like russian dressing that anything else. Again, not very spicy. It wasn't a bad sandwich, but it wasn't much different than a plain chicken sandwich with regular mayo.
J Marks Cajun Chicken Sandwich
All that being said, this is a really nice place to meet for drinks or to hang out at the bar to watch a game (assuming they put the game on). There aren't a lot of places around with the ambience of Morton's without the absurd prices. Their wine list by the glass is skewed with low-end choices, but the prices are fair. They have Badiola Chianti blend for $30/bottle but you can't get it by the glass; Consider that it's $10/glass at Big City Tavern and that's not too bad (4 glasses per bottle).
While more than half of the items I've tried here weren't to my liking, its a large menu so there are plenty of worthy choices. The appetizer sampler is pretty good for snacking all by itself.
J Marks Trio Appetizer Sampler
One negative of the open air patio is that the bar area is noisy; cars on US1 zipping by continuously make for a noisy setting with the doors and windows open. Also, they have no Wi-Fi, so if you have an iPad you'll be paying for your internet.
Note that this place is pretty well known for being "gay friendly", so the mixed bar scene may not appeal to everyone.