Critic's Review
Mama's is a tiny storefront in a shopping center in a part of town where you probably wouldn't be unless you had some other business there. I spotted it when I got a pizza at Carcione's next door quite a while ago, and I just felt like having some cuban food today. I was going to head into Hollywood, but ultimately I decided to try Mama's.
If I knew that they were paving the parking lot I would have gone elsewhere. Aside from the annoyance and lack of parking, the smell of hot tar was overwhelming. I wasn't sure that they were even open, with the steamrollers out front. But I found a path over there and they were in fact open.
There's a blue tile counter and a few tables and chairs; it's a small place. The first thing they said to me was "Cash Only", I guess I looked like someone who doesn't carry $8 in cash, but that was no problem. I ordered some Ropa Vieja, which comes with white rice, black beans and plantains. It was $7.75; prices are up from the menu we have here and they didn't have anything I could take out.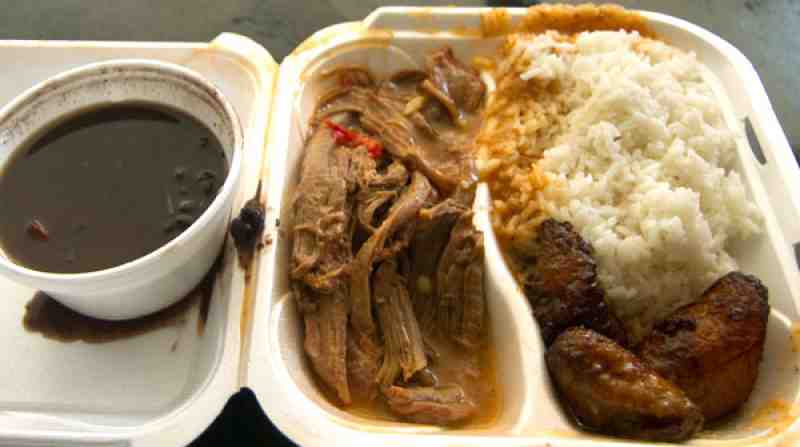 The portion was a bit smaller than expected; I'd gotten enough for 2 lunches at Las Colinas for $6.95, and Las Colinas was better. This was pretty good, but not great. I prefer when there are more peppers and onions. The meat was very tender, but not as flavorful as what I've gotten at Azucar or Las Colinas. A satisfying lunch. Las Colinas is still the Gold Standard for value in the area.