Critic's Review
I hadn't been to Rendez Vous in over 2 years; one of the issues with restaurant reviews is that places change; they raise prices, they hire new people, and they change ownership. I don't know what happened here, but I need to apologize to those who've found their way to this place based on my previous review.
I was on my way somewhere and decided to grab breakfast; I was right by Over Easy Cafe, but the place was crowded and I didn't want to rub elbows with the type of folk who go there, so I thought about Rendez Vous, just down the road. I figured it would be packed on a Saturday morning, but as I drove by I saw only a few cars in the lot, so I circled around and went inside.
With 3 booths available, they tried to seat me an a corner right across from a couple; I pointed to a booth and she begrudgingly agreed. The hard sell for a Latte or Cappuccino ensued; I asked for American Coffee.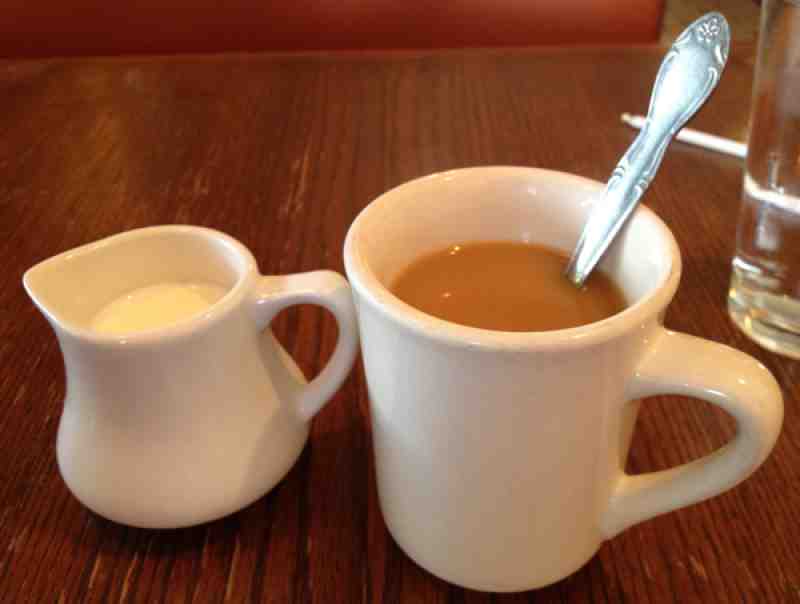 Rendez-Vous Coffee
You'd think that in a french place they'd have good coffee, but this is diner coffee, served in a diner cup. They have abandoned the metal pitchers in favor or more dainty, ceramic ones.
From a physical standpoint, Rendez-Vous is a nice little place; like a little cafe. They have a 'bakery' counter, with booths along the wall and some tables in between.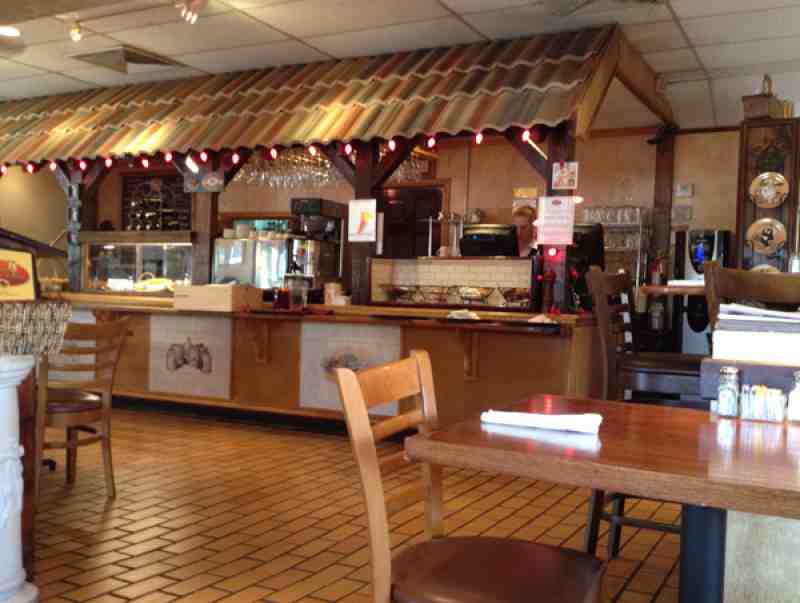 Rendez-vous Interior
Music is a mixed bag, From Soul Sister to Elton John.
The menu offers a lot of choices with scrambled eggs, but I never order scrambled eggs when I eat out. To order a regular breakfast it's all ala-carte and would cost $8 for eggs, sausage, potatoes and toast. I figured they might have some good Hollandaise at a french place, so I ordered the Eggs Benedict. I also ordered some sausage.
When it came out, I was pretty disappointed.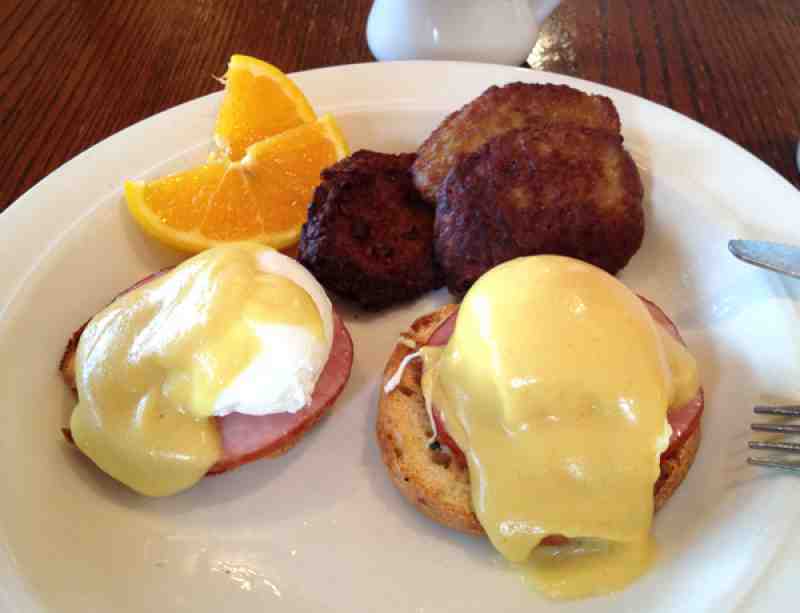 Rendez-Vous Eggs Benedict and Sausage
The eggs benedict, with no potatoes, is $10 and the sausage was $2 additional. I was thinking do they really charge $10 for this? The mustard colored hollandaise didn't look fresh, probably Maille jar sauce, except that there was no lemon taste whatsoever. The english muffins were over-toasted to the point where I had trouble cutting them with a steak knife, and the sausages were obviously not freshly cooked. It was all generally edible, but this is a far cry from the nicely cooked steak and eggs I had here 2 years ago.
Service was clueless; my server didn't say a word to me after dropping off the food, never asked if everything was ok, didn't refill my empty cup (another server filled it on her way back from her table), yet she did add about 1/2 once of coffee to an already full cup after I freshly sugared and creamed it. She also forgot to pick up the check after dropping it off; after 10 minutes I had to ask her to take it as she chatted with another server 10 feet away.
I know now why they were pretty dead on a Saturday morning. Bad food and bad service will cause that.
The menus we have from their website seem to be about a year out of date, so expect higher prices.
Photo Gallery