Critic's Review
The Cheese Culture is an exercise in puns; their tagline is "A Whey of Life". Located next to Le Bonne Crepe, Cheese Culture is a store that's much like the cheese counter at Whole Foods. Those of you from New York might be reminded of Fairway; display cases filled with hideously expensive cheeses, olives, cornichons and italian meats; they have just about everything you'd need to host a cheese party of your own, including fancy cheese boards and those triangular knives with the slicing cutout.
The place isn't great for dining in, they have a couple of sidewalk tables and a big "tasting" table in the rear of the store. But it's more like a counter than a restaurant.
They seem more focused on PR than developing their retail business as there's more info on their events than their products; their facebook page has more info on their cheese classes than anything else; we asked them for a menu and they referred us to a blurb in New Times; fantastic client interaction. They also don't have any printed menus that you can take out, even though their store menus are just pieces of paper in a plasitc holder. They posted a photo of a blackboard that seemed to have a menu on it; so I decided to get a sandwich.
I decided on the Italian, which seemed pretty benign, being made with "aged provolone" with Speck, Genoa Salami, Capicola and Olive Tapenade on "Rustica" white bread. The first thing I noticed is that they've already raised their prices from when they posted the facebook picture; paninis are now $10.95.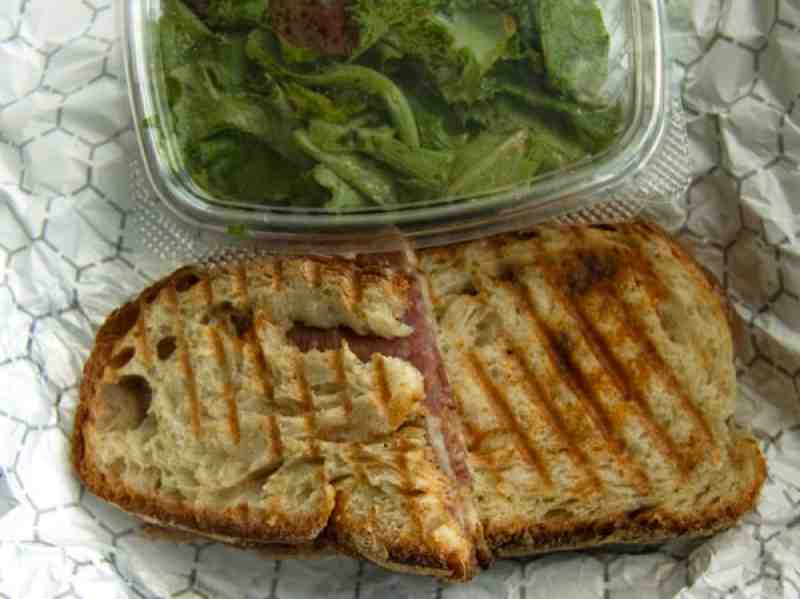 When I took the sandwich out I wasn't too happy with the size of it. I was particularly surprised by the fact that the sandwich had only 2 small strips of cheese on it, covering about half of the sandwich. This is a cheese place, right? I sort of expected cheese to be the dominant ingredient. Instead, I could barely tell it was there.
This particular recipe is flawed; the sandwich was way too salty for human consumption. The field greens were good with a light vinegrette; but I expect more food for $11.61.
They only have one kind of dressing; honey balsamic; so if you don't want honey balsamic, too bad for you.
My impression of this place is that it's intended to appeal to the crowd who think it's cool to be into things like wine and cheese and not so much those of us who just like to eat.