Critic's Review
Cantina Laredo is part of Consolidated Restaurants, located in The Village at Gulfstream Park. Consolidated also own the III Forks brand, located next door. Cantina Laredo is an upscale Mexican restaurant that serves authentic Mexican recipes. The place has a sophisticated feel; this place isn't Carlos and Pepe's.
I'm not one to go out of my way for Mexican food, but I was intrigued by their brunch, which is served on Sundays until 3pm. Mexican stuff goes good with eggs, and I wanted to check out the race track, so I headed over.
The place was about 1/2 occupied at 2:30 and they sat me at a booth; considering I was alone I appreciate that they didn't try to put me at some crap table. The booths have nice leather seats with wood tops; the decor is modern with light colored woods.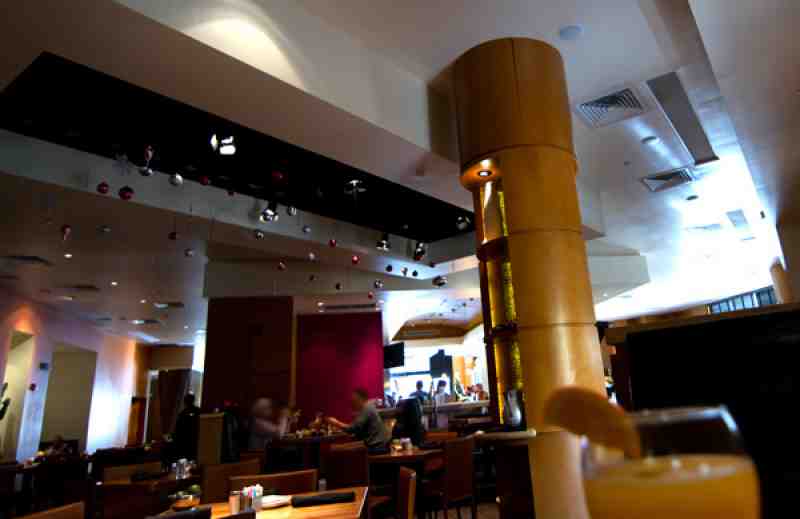 There's Mexican music playing (with Spanish Lyrics) that add to the "authentic" ambiance.
My server came over quickly with chips and 2 salsas and he explained that one was a tomatillo and the other was roasted tomato. He also explained that all sauces were house made. I didn't really want chips and salsa with my breakfast but I tasted each. I dunno; I kind of like a regular pico de gallo. Fancy sauces are a non-starter with me.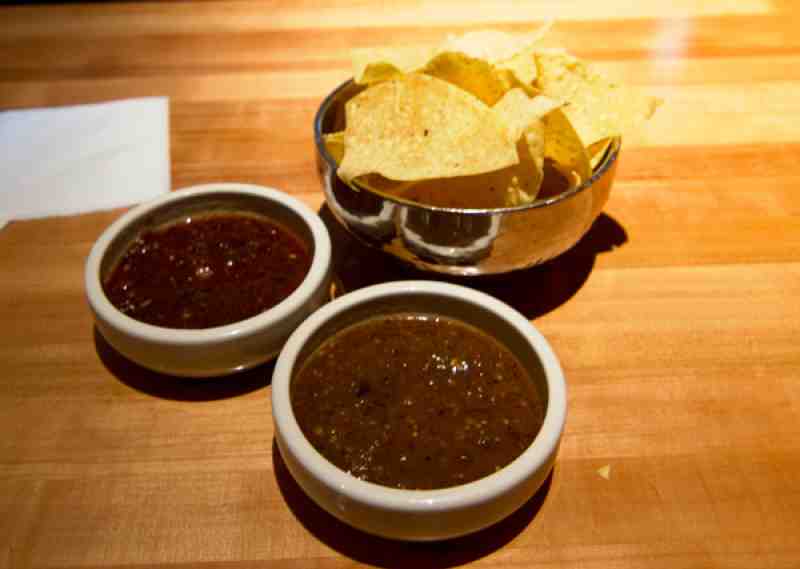 Brunch includes a free Mimosa or Bloody Mary; I'd already decided before I left that I wanted the Asada Y Huevos, which means Steak and Eggs in Spanish. I asked what kind of beef they used; Skirt Steak was the answer.
I got my mimosa and a glass of water while I waited and fired up the NY Post on my phone. 3 articles later, my food was served.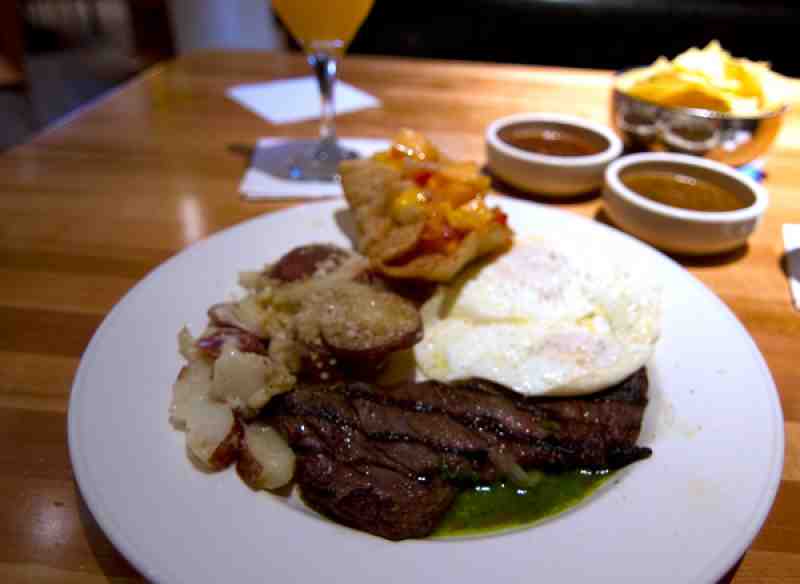 It looked pretty good, the eggs were competently over-easy and the cheesy red potatoes were unexpected. The steak was smaller than I'd hoped for, and the menu claim that there should be marinated onions; there was one little piece of onion that I thought just wandered over from the potatos. I didn't notice the lack of onions until afterwards when I checked the menu so I didn't mention it.
Everything was good; the steak was marinated and had a bit of flavor and the chimichurri was good (not great) and there wasn't very much of it. I like it when they give you a tub of it and you can spoon on as much as you want. The potatoes were very good; just simply cooked red potatoes with some sort of white cheese.
Considering that the mimosa, which was mostly orange juice, would be at least $3-$5, it was a pretty good deal for $12.99. Frankly, I'd rather they charge $2 more and give me a bigger piece of meat, but all in all it was a pleasant and satisfying meal.
Photo Gallery
Disclosure: We received a gift card to review this restaurant from their PR company.