Critic's Review
Tropical Acres has re-opened after repairs from a Fire.
*******
Tropical Acres is the place where you went for Steak in Fort Lauderdale back when the competition was Beefsteak Charlies. I'd never been there before; it's one of those places that people talk badly about, mostly from rumor and not first hand knowledge. You drive past the place and it just seems so big; places this size don't survive for 60 years unless they have something going for them.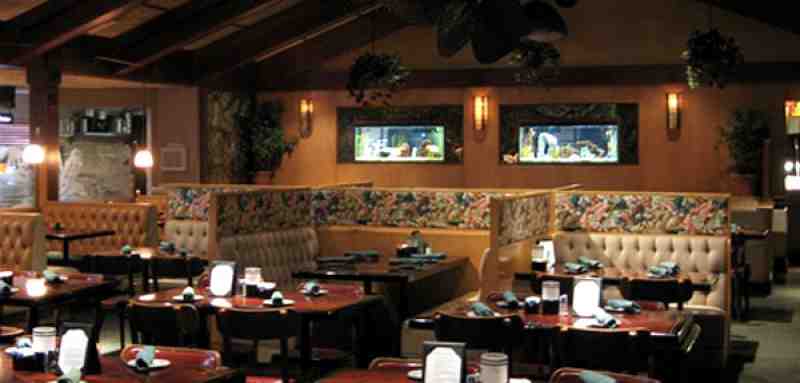 It doesn't look like anything modern; more like an old tennis club. You walk into a big waiting room with old couches and (usually) a lot of people milling around. On this Tuesday evening, the wait was about an hour.
The bar area is equally out of date; there's a big 60" TV that clearly wasn't there in the 50s. It's not at a very good viewing angle from the bar itself; this isn't the place to come to watch the game; but you can watch while you're waiting for a table.
Servers here are not the usual kids you get on Las Olas. You might hear a lot of bad comments about the servers; but I don't need a self-absorbed youngster to serve me; the older gentleman here did just fine.
I asked for a menu, but I already knew what I was having. I'd spotted their 26oz Certified Angus Beef Porterhouse steak on their menu for $29.95. I ordered a glass of their house Chianti at $7; a basic Ruffino, which is served in a small, 6oz glass, so don't expect an over pour here. The steak comes with a salad and a side (remember when that was the norm?); I ordered a caesar salad and the creamed spinach. A basket of bread and some butter was dropped in front of me to nosh on while I waited.
The big problem with eating at the bar here is that the bar is too small; it's not deep enough to accommodate a multi-course meal. A couple sitting next to me ordered the dual main lobsters, and they needed like half the bar for all of the shells and plates. The salad came out very quickly; there's very little downtime here between courses.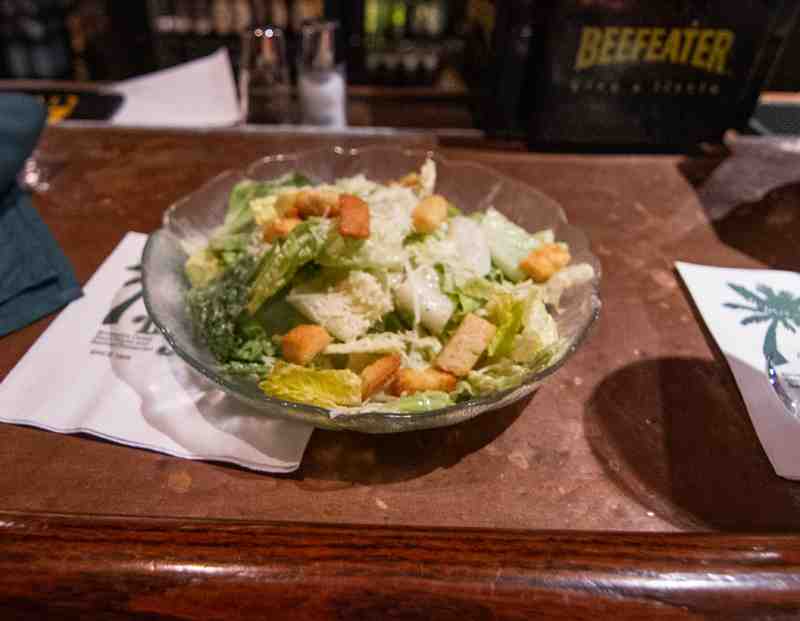 The salad was cold; they probably pre-make them and put them in the refrigerator. It was a very good, if not fancy, salad. The dressing was just right with a little hint of anchovy. A lot of "modern" places think they're doing you a favor by burying the salad with shredded cheese, but this is the way it's supposed to be. I give the Salad a B+.
Just as I was finishing up the salad, I heard a sizzle from across the room. I knew that my steak was about to be delivered.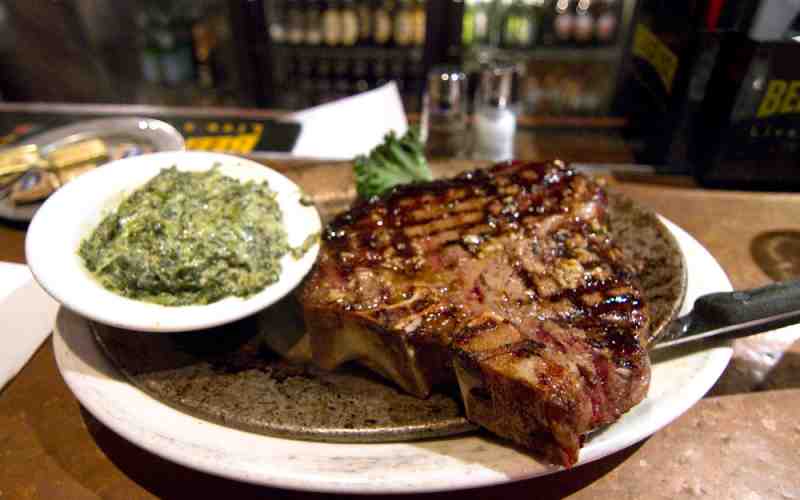 Now this is a porterhouse steak! Much bigger than anything you get at the Outback (20oz, Choice Grade for $24.95) or Rare Las Olas (24oz, Prime Grade for $55.); the steaks here are Certified Angus Beef, which is the highest grading of Choice beef that's not Prime. This steak is a full quarter inch thicker than what you get at the Outback.
I cut into the steak and it was already perfectly medium rare so I wanted to stop the cooking. It's served on a sizzling platter that's floating on a dinner plate; it's difficult to manage as well. I asked my server to grab the platter so it wouldn't get too well done, and I dug in.
The steak had a lot of gristle, which happens with porterhouses sometimes, but it was so big that there was plenty of meat to eat. The steak had a great, seared taste and was just a carnivore's delight. The creamed spinach was excellent also; smooth, creamy and delicious. As good as Ruth's Chris.
The entire bill here came to $38, which is about what you'll pay on las olas for a 12oz strip steak (a porterhouse without the bone or the Filet Mignon), without the salad or the glass of wine. While the atmosphere in this place is clearly outdated, it reminds you of how restaurants used to be before they started ripping people off with gimmicks. Bread, Salad, fair prices and a lot of food.
Sometimes trips back in time aren't so bad. Particularly when you can get a massive steak at a very fair price.