Critic's Review
The Riverside Market is one of those places that the old Florida people rant about; I remember the first time I heard about it; I thought it was this little cafe on a river where you could go to eat breakfast in tranquility. Of course it's nothing like that; it's an old building in the woods in a part of town that you'd never pass through unless you lived by or were running a food-related website.
This place made some big news last year when it was discovered that they'd been selling food for years without a license and without ever having the place inspected. The town finally came down on them, and they got a license in March.
Inside, the place is a big room with a lot of stuff, lots of beverage choices, beers and wines, couches and hanging Canoes. Sort of like TGI Fridays meets the 7-11. There are tables in the back for eating too.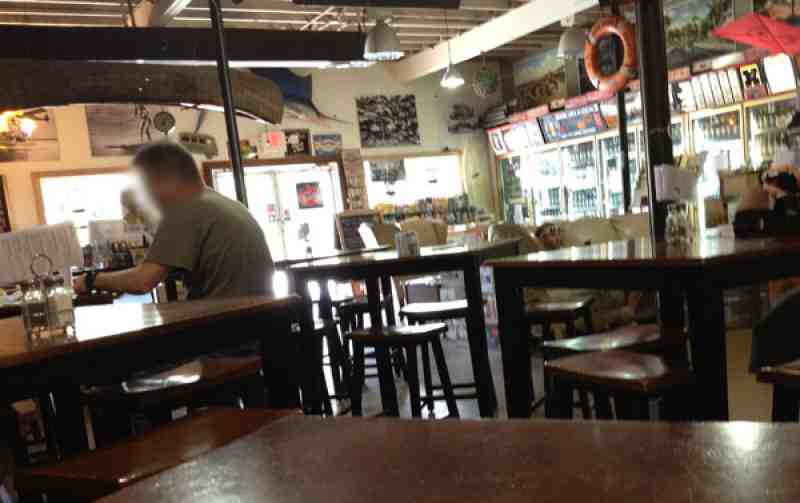 Riverside Market Interior
My first visit here, 2 years ago, I got a tuna melt that was a pretty good portion but not very melty. Not a bad sandwich but nothing I'd go out of my way for either. It was time for a revisit, and their "I can't believe I'm not in NY" pastrami sandwich caught my eye. Overstuffed, drizzled with deli mustard. Sounded like my kind of sandwich.
So today the Andrews draw bridge seemed stuck open and I got tired of waiting, so I turned right and headed up into no-where land, where you can find the Riverside Market. I ordered the sandwich, pretending to look at the menu, and then I waited. And waited. It took a long to to make a sandwich. When she handed it to me, wrapped in wax paper, I thought it seemed kind of skinny for an overstuffed sandwich.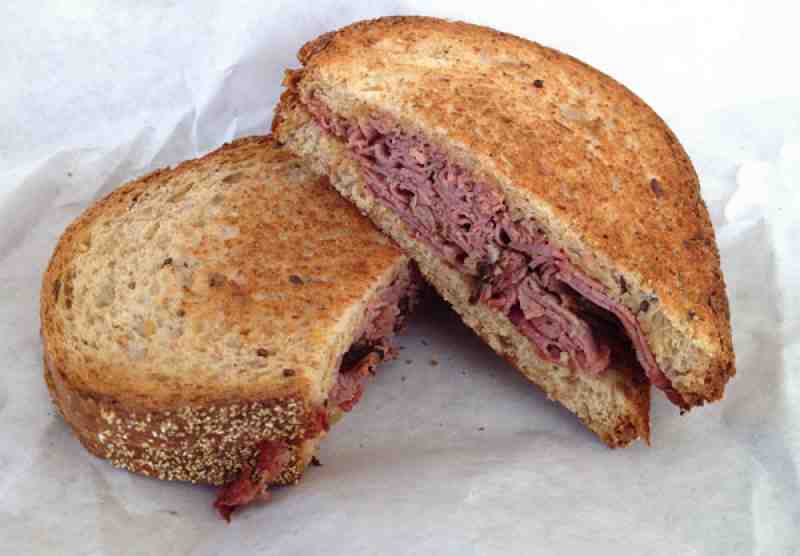 Riverside Market Pastrami Sandwich
When I opened it up, it was clear that nobody at the Riverside Market has ever had a pastrami sandwich in New York. First of all, who toasts or presses a pastrami sandwich? And overstuffed? You make the call on that one. Ironically, the only other place that I've ever gotten a toasted pastrami sandwich is across the street at Bozo's. You toast a Reuben or a Rachel, but plain pastrami needs nice, hearty rye bread.
The pastrami was very lean, which can be a good thing, but the fat is what makes pastrami taste decadent. This was too dry; maybe they cooked the fat off, which is a mistake. The mustard that came on the sandwich wasn't very noticeable; I added a squeeze of my Boars Head Deli Mustard and it was better.
No pickle. No side. Not worth $8. Not at a place like this.
Photo Gallery
Related Articles
Riverside Market Operating without a License (03/24/2012)