Critic's Review
They call this Zuccarelli's East; as if it's somehow affiliated with Zuccarelli's in Margate, but I have my doubts. The owners are different, and Zuccarelli's has a nice website while this place has a poorly done cookie-cutter one; if they were actually affiliated (rather than just licensing the name) it would make little sense to put up a separate, crappy website. No matter though; the proof of the pudding is in the tasting.
Driving back from lunch in Deerfield Beach, I called this place and ordered a pizza. They have 18" pizza here, which is always welcome. I ordered my usual; i hit quite a bit of traffic and missed my turn, so it was about 1/2 hour before I got there, and the pie was ready.
From a distance the place looks halfway decent, but it's really kind of dumpy. There's a patio that's not very nice (and sort of in the parking lot), and inside they have a counter and some of those stand-along booths that place that don't have built-ins put in. They have some 1995 tube TVs; it's just not a very appealing place.
When I opened the box, the pizza looked pretty good.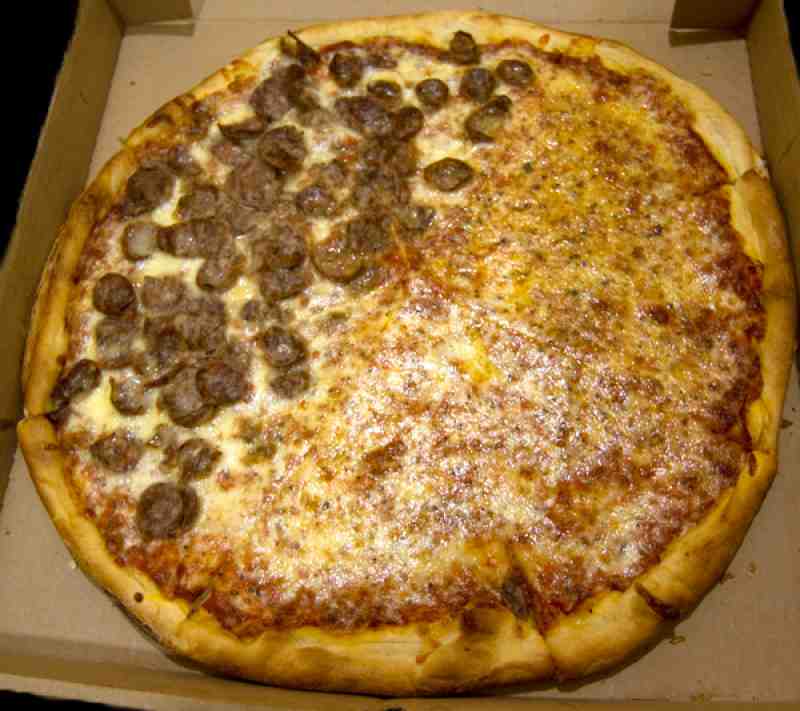 Zucarelli half sausage Pie
Unfortunately it wasn't as good as it looked. There was something with the crust that I didn't really like, and the sauce didn't have much taste. It just didn't give me the joy I get from eating a really good pizza. A 3 star pie.