Critic's Review
This place used to be Biddy Early's, and the folks who own McSorley's have taken it over and built a pretty nice Irish Pub. Located in a part of town where you wouldn't expect to find anything halfway decent, Stout is a pretty big place. Luckily all of the other buildings nearby appear to be abandoned, so there's plenty of parking. Inside, there's a big long bar and lot of big, roomy booths. TVs are everywhere. I landed a booth with a personal 24" TV; unfortunately you can't change the channel yourself, you have to ask them to change it, which eliminates any chance of channel surfing.
I ordered a saratoga ($3.50 for a 12oz bottle) and took a look at the menu.jump-->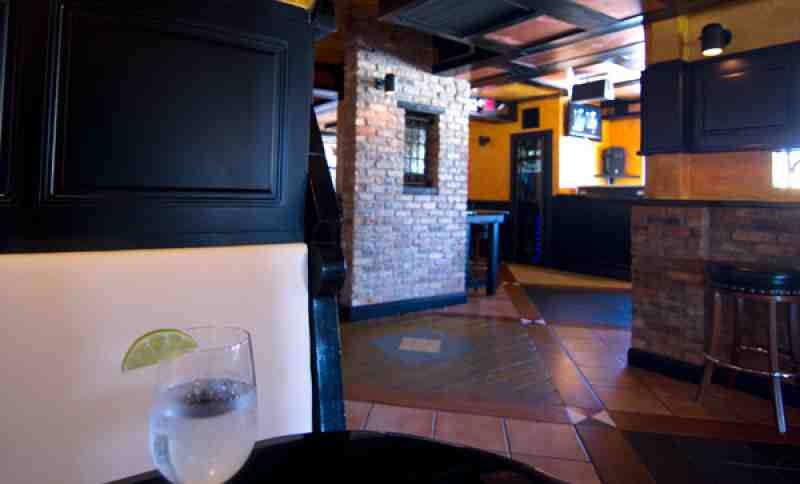 The menu has a lot of pub grub on it; some standard Irish dishes, cheeseburger, wings, salads and Steak and Baked potato. The specials didn't catch my interest, so I went for the pastrami sandwich which is made with onions and swiss cheese. I don't usually take onions on my pastrami, but I'm adventurous.
There seems to be a lot of things not quite working at Stout. There are no place mats. It took quite a while to change the TV. Music was not to my liking, with Josh Kelly following Sean Kingston. Not irish pub / sports bar music to me. The food came out pretty quickly.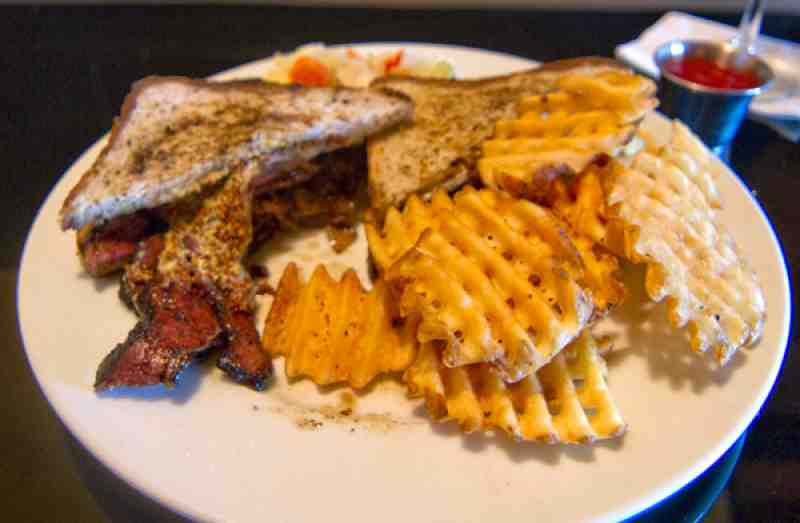 Stout Irish Pub Pastrami Sandwich
The sandwiches are served with waffle fries and some sort of cold pickled mixed vegetables. The vegetables were awful. The waffle fries were very good, the only caveat being that they were too big to dip into the thimble of ketchup; a squeeze bottle would have been better. Or I could have spooned some out, if I had a spoon. I opted to break them in half. The sandwich was sloppy to eat, with the slippery onions fighting me all the way. It would have been pretty good, except that the pastrami was very fatty, and it ruins the experience when you have to constantly fish stuff out of your mouth.
While ordering the pastrami may have been too adventurous, the place itself has potential. They plan on having all of the sports packages (MLB, NBA and NHL) and the menu is suitable for watching sports. The big issue is the area; not so much the physical appearance, but the fact that demographically there aren't a lot of high class neighborhoods nearby. So I'd have to be apprehensive about the mix of patrons they may get in this neck of the woods. Time will tell.