Critic's Review
In a part of town dominated by tattoo parlors and the kind of people who hang out near tatto parlors, Cafe Bluefish stands alone. Considering the neighborhood, it looks like it might be just another seedy bar. But its really quite a nice place; casual for sure, but its clean, they have a ton of good flat screen TVs and there's an aroma of good seafood. Thankfully the gay club across the street has closed, so you can now enjoy the 70s rock playing here without the disco beat that used to haunt the neighborhood. The place is open air, but you don't have to worry about some big fan blowing on you. At night this place may be filled with bikers. Lunch or early dinner is the time to come.
The service is attentive. The menu is dominated by seafood, but you can get a burger here also. The lobster bisque is good here, with just enough fish taste and not too much sodium. You can get wings, peel-n-eat shrimp or calamari, all served with good homemade dipping sauces. One disappointment is that they've replaced their grouper dishes (fish sandwich, fish and chips) with talapia. The menu on their web site is out of date.
The Jerk wings are a bit aggressive here, so unless you know your jerk you may want to think twice about ordering them. Rather than being marinaded, the wings here are fried and then rolled in a very fresh jerk sauce that is so loaded with fresh thyme that it can be a bit intimidating.
Cafe Bluefish Wings
They're pretty good; very spicy. But its not my favorite preparation. I prefer the flavors to be cooked in.
Another item I wanted to try was the Conch Chowder. They bill themselves as the best seafood restaurant in town, and you really have to question something like that. One day I just dropped in for a bowl of chowder.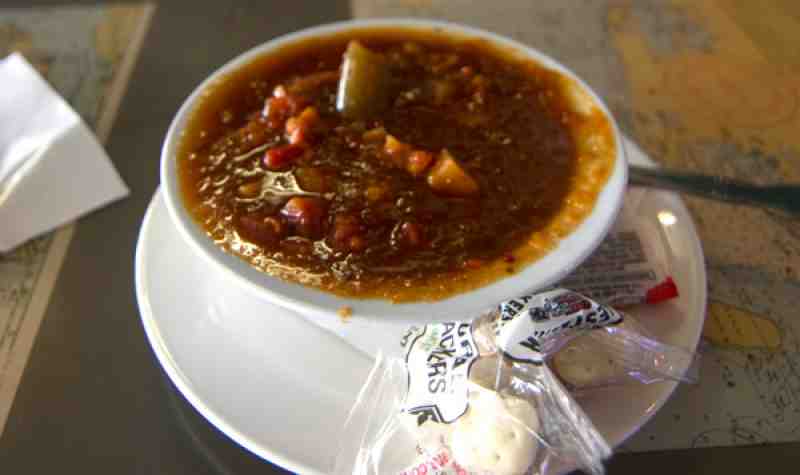 Cafe Bluefish Conch Chowder
It's a pretty loaded version; better than Ernie's. While conch chowder is supposed to be salty; this was too much so, and it wasn't very spicy. Lots of potatos and conch. I don't think I'd order it again.
They do have the sports packages and they get the YES network, a big plus for Yankee fans.